COVID-19 Vaccine – National COVID-19 Vaccination Programme – Community Pharmacy Campaign – Balrothery Pharmacy 
30/09/22 – HSE Update 
Who is eligible for a 3rd COVID-19 Booster?
Only those aged 65 years and over or with a weak immune system are currently eligible for a third booster at least four months after their last vaccine or COVID-19 infection.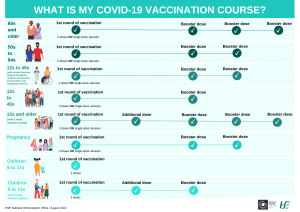 Adapted Bivalent Vaccine
The Minister for Health has announced that the authorised adapted bivalent vaccines should be used in all those aged 12 years and older who are eligible for a booster vaccination.
NIAC Recommendation: "Authorised bivalent mRNA vaccines are preferentially recommended for all those aged 12 years and older eligible for a booster vaccination." Adapted bivalent COVID-19 vaccine boosters include components of the original virus strain and the Omicron variant.
01/09/22 – HSE Update – Booster vaccine doses are now being offered for COVID-19:
– first booster – all people age 12 and older and 5 to 11 year olds with a weak immune system
– second booster – now being offered to new groups
Second booster dose
You can get your second booster dose now if you are:
– age 50 to 64
– 12 or older with a condition that puts you at high risk of serious illness from COVID-19 – for example, diabetes, asthma or heart disease.
– pregnant (from 16 weeks)
– a healthcare worker – bring your work ID or a letter as proof of employment
– 12 or older living in a long-term care facility – this will be given where you live
If you have not already had your second booster, you can still get one if you are age:
– 65 or older
– 12 or older with a weak immune system
If you are in these groups and had your second booster over 4 months ago, your next booster will be offered soon.
How long to wait before getting your booster
-Wait at least 4 months since getting your last COVID-19 vaccine. You can check the date of your last vaccine on your digital COVID-19 certificate.
If you had COVID-19, wait at least 4 months since you tested positive or from when your symptoms started.
If you have not already had a booster during this pregnancy, you can get a second booster at or after 16 weeks of your pregnancy.
Balrothery Pharmacy has been approved to administer Pfizer vaccines (including boosters). Vaccinations will occur in Balrothery Pharmacy, Balrothery, North County Dublin, K32AY68.
Your booking will only be confirmed when you receive a booking confirmation, and we confirm all your details match those with the HSE. We will be in touch if so.
Please only present for your appointment at the agreed booking time. You will not be called to this time, as people are called in order of their booking not when they presented.
It is possible to book a vaccination online with Balrothery Pharmacy (PharmacyAnseo.ie), even if you have registered with the HSE and have received a vaccination date from them. We register your vaccination live on our HSE portal and they will be made aware in minutes.
If for whatever reason you get an appointment and then cannot make it or will be late for the appointment, please let us know as soon as possible by email or phone.
You can get the COVID-19 booster vaccine at the same time as the flu vaccine or other vaccines.
We can now vaccinate people who have received their first vaccination elsewhere and whose first vaccination information is in the EU Digital COVID Certificate portal. Please call ahead before booking so we can confirm all information is correct. Otherwise there will be problems with the HSE issuing your EU Digital COVID Certificate. 
Please ensure that the email address and PPS number provided below are correct. We cannot add any information to the HSE portal without a valid PPS number and you will not receive vaccine confirmation or a EU Digital COVID Certificate without a valid email address. (We recommend adding the adults email address and mobile number.)
Children aged between 12-15 years cannot give their own consent. A document below will list who exactly can give consent in all circumstances. If you are aged 16 years or older, you can sign your own consent form. Please print off the consent form also listed below and bring to the appointment completed. (Printed copies are available from the pharmacy but must be picked up at least 1 hour before the appointment)
An adult who is legally able to consent for the child will need to be present and provide consent for the child aged 12-15 at the time of the vaccination appointment. A child cannot attend this appointment alone. Only one adult will be allowed to accompany the child. The child should also be asked to assent to the vaccination which must be recorded on the consent form. A child who does not assent should not be restrained or vaccinated against their will. (We may ask the adult accompanying the child to wait outside while the child is waiting before and after the vaccination occurs in busier times.)
You will need 2 doses of the Pfizer/BioNTech COVID-19 vaccine. You will get your 2nd dose 2.5-4 weeks (17-28 days) after your 1st dose. It takes 7 days after the 2nd dose for the Pfizer/BioNTech COVID-19 vaccine to work. This is when you are fully vaccinated.
We will require you to bring your PPS number, consent form and photographic identification to the appointment. All bookings are dependent on supply and can be cancelled.
Overview & Introduction
COVID-19 is a highly infectious disease that can cause serious illness, hospitalisation and even death. The COVID-19 vaccination programme offers protection from COVID-19. If people do test positive for COVID-19 after vaccination, they should have increased levels of protection from the serious illness that the virus can sometimes cause. The aim in offering the vaccine to the population is to protect people and reduce the illness and deaths caused by this virus.
The vaccine is not mandatory. People who are most at risk from COVID-19 will be offered the vaccine first. The COVID-19 vaccine is free to all persons of the State. It will not be available privately.
The Department of Health has devised a priority list of groups for vaccination using vaccines authorised by the European Medicines Agency (EMA). The Strategy was developed by the National Immunisation.
Advisory Committee (NIAC) and the Department of Health, endorsed by the National Public Health Emergency Team (NPHET), and approved by Government on 8 December 2020 and updated on 30 March 2021. The Strategy is a further component to the State's response to the COVID-19 pandemic and will evolve and adapt with more detailed information on the vaccines and their effectiveness. For a quick guide to the updated provisional vaccine allocation groups please see link to the government website
Community Pharmacists, who have already made a significant positive contribution to efforts to manage this public health crisis since the outbreak of COVID-19 in the spring of 2020, will play a key role in the delivery of the vaccination programme in accordance with the agreed national vaccination schedule. Community Pharmacists will have a key role in delivering the COVID-19 vaccination programme as the HSE seeks to maximise delivery capacity.
This document sets out guidance in relation to the approach, logistical arrangements and processes established for the rollout of the vaccine programme within a community pharmacy setting.
Please refer to the following links if you have any questions about the vaccination.
The COVID-19 Vaccine Allocation Strategy sets out a provisional priority list of groups for vaccination once a safe and effective vaccine(s) is authorised by the European Medicines Agency (EMA). The Strategy was developed by the National Immunisation Advisory Committee (NIAC) and the Department of Health, endorsed by the National Public Health Emergency Team (NPHET), and approved by Government on 8 December 2020 and updated 26th February 2021. The Strategy is a further component to the State's response to the COVID-19 pandemic and will evolve and adapt with more detailed information on the vaccines and their effectiveness. For a quick guide to the updated provisional vaccine allocation groups please see link to the government website https://www.gov.ie/en/publication/39038-provisional-vaccine-allocation-groups/
The National Immunisation Office (NIO) is the primary source of clinical guidelines about national immunisation programmes, including COVID-19. Please refer to its website regularly, as the NIO monitor and update information in relation to vaccinations. Please see: